New Variety: CLL15 Shows High Yield Potential in '19 Seed Production
CLL15, a new semi-dwarf long-grain variety developed by the University of Arkansas, will be commercially available in 2020. Coming on the heels of excellent university yield plot performance in 2017 and 2018 and Horizon Ag strip trials in 2018, we are excited about its field-scale performance in 2019. Currently, it has dried 180 bushels per acre in seed production, with no lodging. Numerous fields dried 185 bushels per acre or more, with the best farm yielding over 200 bushels per acre dry across 280 acres.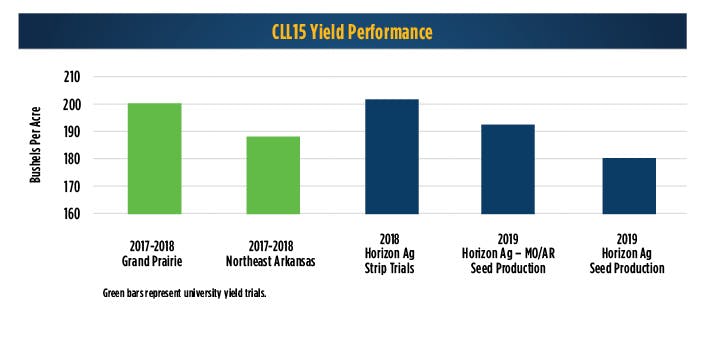 CLL15 is similar in heading to CL153; however, it reaches harvest moisture a couple of days earlier. It stands 38 inches tall and is moderately resistant to lodging. The optimum plant population for CLL15 is 12 to 20 plants per square foot. Depending on soil conditions, weather and pest management, this can be achieved with 55 to 70 pounds of seed per acre.

CLL15 has consistently shown average yields about 5 to 10 bushels higher than varietal industry standards like Horizon Ag CL151 and CL153. It has excellent milling characteristics, including good grain length and low chalk. The variety also has broad-spectrum blast resistance similar to that found in CL153 and CL172.
Arkansas County, Arkansas, farmer Darren Walker, who had new Horizon Ag CLL15 in seed production in 2019, said he was impressed with how the latest Arkansas-bred Clearfield® variety performed. He expects CLL15 to be a popular variety with farmers in his area in 2020.
CLL15 measures approximately 38 inches tall and stands extremely well. In the 2018 Arkansas Rice Performance Trials (ARPT), CLL15 yielded 192 bushels per acre compared to 190 bushels per acre for CXL745. In trials conducted from 2016 – 2018, CLL15 averaged 191 bushels per acre compared to 197 bushels per acre for CXL745.