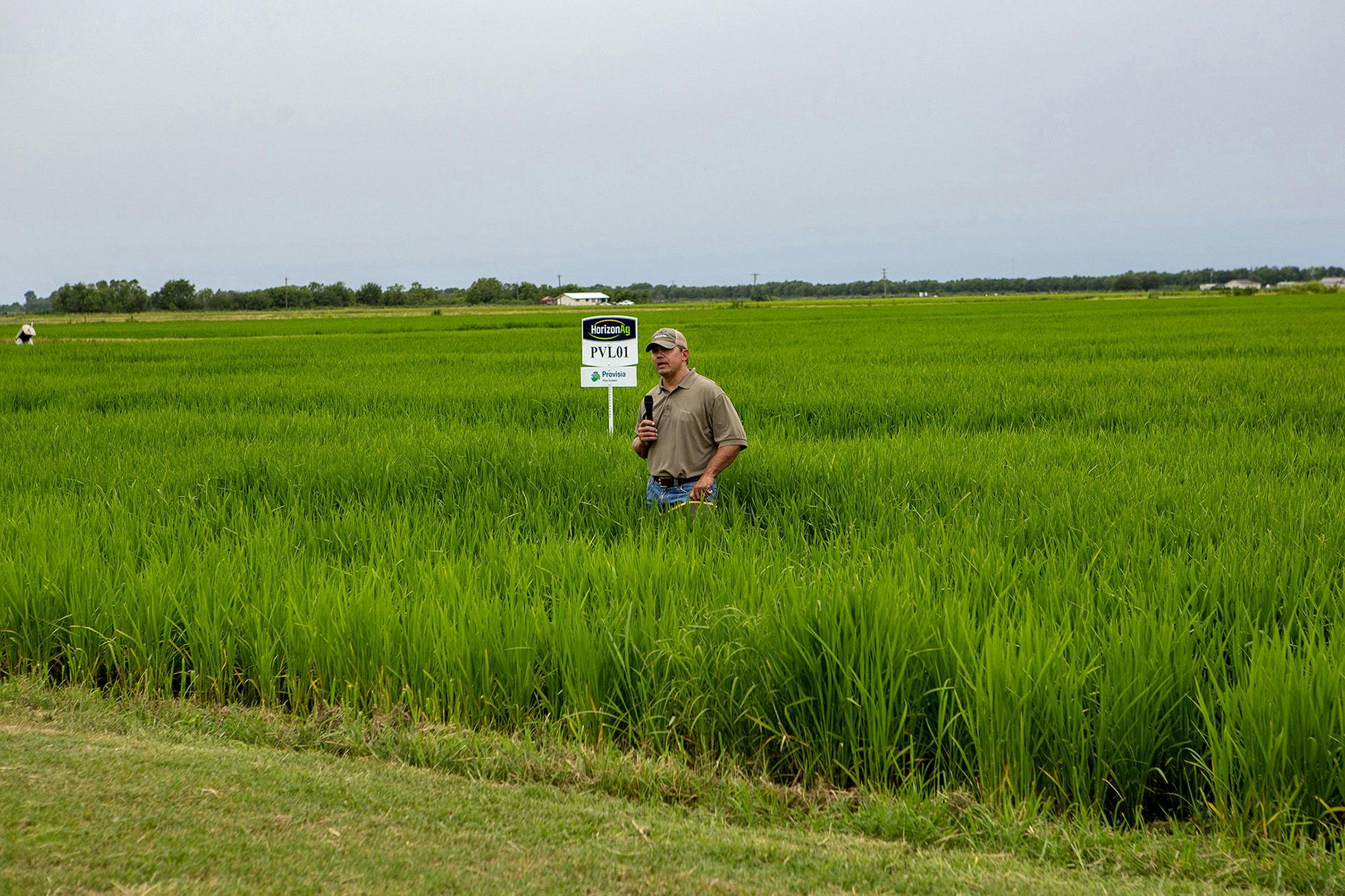 PVL02 Will Provide Farmers Another Vital Tool To Control Weedy Rice
KAPLAN, Louisiana – With weedy rice problems increasing, costing many rice farmers significant yield potential and profitability, and the anticipated release of a second effective tool – Provisia® rice variety PVL02 – in 2020, the Provisia Rice System was one of the main points of interest during the recent Horizon Ag Louisiana Field Day.
"The amount of weedy rice reported is getting worse and worse," said Michael Fruge, Horizon Ag District Field Representative for Louisiana. "A lot of farmers are telling me they have more weedy rice this year than they ever have. Two years ago, they might have had one to two acres affected where now they have 20 to 30 problem acres." Many farmers have already successfully turned to the first Provisia variety release, Horizon Ag PVL01, which was available commercially for the first time in 2018, to bring weedy rice-challenged fields back into profitable production.
"We are fortunate to have the Provisia technology," Fruge told attendees. "Last year was our first year on a broad scale with PVL01, and we learned a lot about how to manage the technology and the variety. We had a much more informed game plan with Provisia rice when it came to herbicide use and fertility this season, and I think we did a much better job."
Fruge noted that the weather has been conducive for good control, and farmers say they have not seen the herbicide injury many did in 2018. Reducing the fertility rate, based on experiences from the previous season, also has been effective.
"Overall, PVL01 has been growing extremely well this year," he said. "While this variety won't set the bar in terms of yield potential, it will compete with any inbred variety or hybrid in the conditions it is being put in. A lot of these fields have a tremendous amount of weedy rice, and farmers are starting to lose an exponential amount of yield. You can put PVL01 in those fields and it will yield with anything else out there and clean up those fields. This technology works extremely well."
Dr. Tim Walker, Horizon Ag General Manager, added that farmers throughout the South who have tried PVL01 to clean up weedy rice challenges are seeing the value of the Provisia technology.
"If you have weedy rice and you've held out trying the technology, because of whatever you may have heard about yields, disease or whatever, I would encourage you to make a fair assessment of yield," he said. "Yield trials are never done in weedy rice environments. Don't just look at university yield trials and say a variety is not yielding well so I'm not going to plant it, because you are comparing it in a pristine environment. PVL01 is proving its value to farmers in the toughest weedy rice environments."
And with the launch of Horizon Ag PVL02 on a limited basis in 2020, farmers will have an even better option, in terms of yield and quality potential.
PVL02 is a sister variety of PVL01 with better agronomic characteristics. It is about seven days earlier, which should bode well for southern Louisiana when it comes to a ratoon crop. It has clarity and low chalk comparable to PVL01 but its grain is a little shorter, which should mean improved milling yields. Another advantage is that PVL02 is not quite as susceptible to blast.
"It's another step forward with the Provisia technology, something that is vital for us in South Louisiana, as we try to bring some of these fields back into profitable production and clean up some of these weedy rice situations we have created with the past 18 to 19 years of using the Clearfield Production System for rice," said Fruge. "We are bringing these fields back into a profitable situation. With Clearfield and Provisia rice, and maybe even a conventional rice rotation, we'll have three systems we can use to help control achieve better weed control."
Dr. Adam Famoso, Louisiana State University AgCenter rice breeder, said the improved yield potential and quality farmers can expect with PVL02 is just the beginning when it comes to breeding new Provisia lines.
"Over time we should see a steady step change, like we saw with Clearfield varieties, in terms of agronomic advancements and higher yields," he said. "We've made improvements with PVL02, but we certainly don't expect it to be the final Provisia variety. We have additional promising lines in the pipeline."
PVL02 is a sister line of PVL01 and shares the original parent donor lines, which are exotic to Louisiana production systems and environments. By crossing those lines back to germplasm more adapted to the region, coming Provisia varieties will be closer agronomically to today's Clearfield and conventional varieties.
"We hope to have something in the next two to three years, hopefully by 2022," he said. "The big focus going forward is obviously on yield and getting improved blast resistance. We have a number of Provisia lines showing very good blast resistance."
Famoso also told attendees about two new Clearfield long grain experimental lines that are in their final year of yield testing. Simultaneously, the lines are in seed increases to get them to market sooner if they advance.
One experimental line, 2097, shows good blast resistance and, in multi-year testing, has shown a 5% to 8% percent yield advantage over Horizon Ag CL153, the top planted rice variety in Louisiana. The other, 2195, has shown to have a slightly lower yield advantage – 3% to 5% over CL153 – along with good blast resistance. He added that 2195 has chalk and grain quality parameters similar to CL153.
Decisions will be made on both based on their performance this season in Louisiana and collaborator tests in other states.