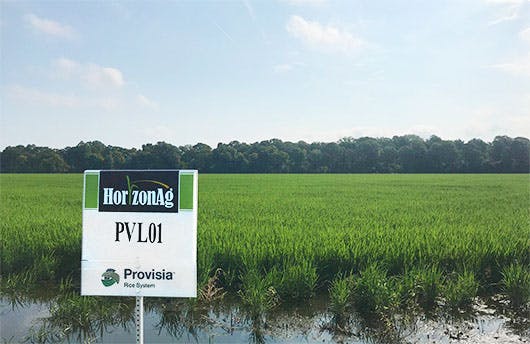 Horizon Ag Varieties Ranked High for Quality by Nicaraguan Rice Purchasers
Horizon Ag is proud to be part of the solution as the United States works to reclaim key export markets for the rice we produce in the South. Producing higher quality rice for markets like Central America and Mexico is an important step in taking back export market share that's been lost in recent years, and making U.S. rice more competitive.
Popular Horizon Ag Clearfield® and Provisia® rice varieties — CL163 and PVL01 — were ranked by major Nicaraguan rice buyers among the top three varieties for quality in a cooking test where samples from a previous shipment of U.S. rice were compared to Brazilian and Nicaraguan varieties.
The cooking test was part of a recent USA Rice mission to distribute long grain rice samples to the two major rice industry leaders in Nicaragua — Agri-Corp and Samuel Mansell S.A. Together, they represent 80 percent of the market share in the Nicaraguan rice industry and are both longtime purchasers of U.S. rice. CL163 and PVL01 are consistently recognized for being among the U.S. rice industry's top-quality varieties. The two varieties also provide rice farmers with outstanding pest management systems and performance potential to achieve a better return on their investment.
Our commitment is to continue to bring forward these types of rice varieties that will stand apart and make U.S. rice attractive again to international markets. For example, a new Provisia rice variety, PVL02, should be available in 2020 and will offer similar quality characteristics to PVL01 along with the potential for even higher yields.
In a report on the results of its mission, USA Rice noted that, in the past, Nicaragua consistently imported more than 100,000 metric tons of U.S. rice, before beginning to turn to suppliers like Brazil, Uruguay and Guyana due to concerns about U.S. rice quality. Nicaragua also has developed more advanced systems and technologies to improve the yield and quality of their national production.
The quality of U.S. rice was the main topic of discussion during the meetings, according to USA Rice. The leadership of each organization spoke candidly about the importance of an alliance with the United States and how they were forced to consider other suppliers who provided the quality of rice preferred by their customers which, from a Nicaraguan consumer perspective, is based on whiteness, grain uniformity, little chalk and, above all, no stickiness.
The importers evaluated nine U.S. varieties brought to the country in a standard cooking test. The top three were CL163, Cheniere and PVL01, in that order. All three rated above five on their 0-10 scale, which indicates acceptability for Nicaraguan consumers.
"There is no doubt that we have some quality concerns from our Nicaraguan counterparts," said USA Rice's Dr. Steve Linscombe, who conducted the tests. "I am confident they can be addressed if we have the wherewithal to ensure that the rice distributed to the country is of the quality standard that they require."
For more information about varieties CL163 and PVL01, as well as other high grain-quality varieties from Horizon Ag, go to www.horizonseed.com.