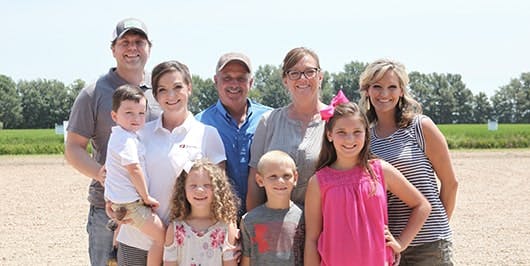 Passing of Industry Leader, Rice Farmer Mark Wimpy
The rice industry lost a dedicated leader and Horizon Ag has lost a dear friend with the passing this week of Mark Wimpy, a Craighead County, Arkansas, farmer. Mark died at his home on Monday at age 59. Our deepest sympathy goes out to his wife Belinda, his daughters and the entire Wimpy family.
Over the years, as we worked together in the industry, we at Horizon Ag have had the privilege of getting to know Mark very well. He was a kind and gentle man. He loved Belinda, Haley, Hannah and his grandkids, who always seemed to be around him whenever we had an event on his farm.
He took great pride in his work and he cared deeply for the rice industry, often serving as a spokesperson for important topics like conservation, progressive agricultural practices or promoting U.S. rice. He was extremely generous. Mark was humble. He was highly successful, but he never put on airs.
Mark cared about others. Though he'd not spent much time directly with our families, he always wanted to know about them. Mark was a professional. He never spoke negatively about anyone. Mark lived sacrificially, always thinking of others.
Mark was a valuable supporter and longtime friend of Horizon Ag, giving of his time and land to support our efforts to advance rice farming and the sustainability of rice farmers.
For the last several years, he graciously opened his beautiful farm and headquarters for the Horizon Ag annual field day near Jonesboro, Arkansas, hosting farmers, consultants, industry leaders and influencers, and even visitors from around the world.
Dr. Sunny Bottoms, Horizon Ag district field representative for the Arkansas Grand Prairie, and a close friend of the Wimpy family, said, "I've had the privilege of working with Mark through Horizon Ag over many years. However, the greatest privilege is calling him and Belinda friends. I've grown very close to them and their family. This is a huge loss, and I will miss him very much."
A fourth-generation farmer who raised his first seed rice in the mid 1980s, Mark played an important role in the adoption of technologies like the Clearfield® Production System for rice and continued to be involved as new technologies like the Provisia® Rice System were introduced.
In 2011 he was honored as the Rice Farmer of the Year by Rice Farming magazine, an acknowledgment of his contributions to our industry and to his commitment and dedication to farming. When he was interviewed for the award, he was quoted in Rice Farming saying that he considers raising quality seed as his greatest achievement as a farmer, along with protecting the environment, maintaining the integrity of the land and conserving resources for generations to come.
Rest in peace, Mark, our friend. You will be missed.
Always read and follow label directions. Provisia® and Clearfield® are registered trademarks of BASF. All other trademarks are the property of their respective owners. © 2019 Horizon Ag, LLC,. All rights reserved.
Photo Mark and Lane